Thalassery is a place where you will get audience in large numbers for any programme. No other place can take such a credit. Even in the case of sports this is true.
Thalassery has contributed a lot of good sportsmen and organisers. C.P. Poker, C.P. Kunjumohammed, Sixer Kunjhipakki and P. Moosa are among them. Most of the contribution were in cricket, but the Tron Club, Excilsor club and sports club no longer exist. Before the Thalassery Municipal stadium was constructed, in 1958-59 football tournaments were conducted in which teams from Pakistan namely Karachi kickers, Karachi makrans used to come and participate. They stayed at Kamaliya hotel near police station. Thalassery United Athletic Club organised football tournament in 1962. Club patron V.R. Krishna Iyer took the initiative for this. In the next year this tournament was organised in the international level with famous teams from Pakistan, Mumbai, Calcutta and Madras participating. The tournament was also of financial success. Krishna Iyer gave all help for the organising of these tournaments.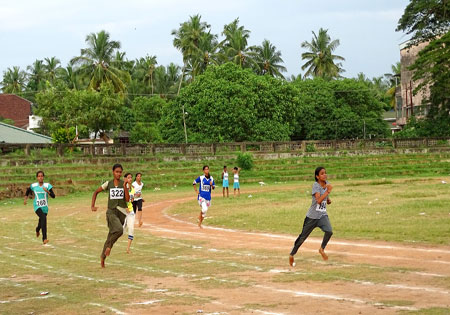 The Thalassery Municipal Cricket Ground hosted many Ranji Trophy cricket matches. On this ground, the first ball was bowled in the early 1800s, thanks to Colonel Arthur Wellesley, who brought the game to this Malabar town. In the year 2002, Thalassery cricket ground celebrated its 200th birthday by hosting a one-day international cricket match between India and Sri Lanka.
The famous English Cricketer Collin Crowdey has played in Thalassery during British regime.
In November 2008, modern and exclusive cricket stadium developed at Conorvayal was inaugurated. First Ranji Trophy match at stadium was on 03-11-09 between Kerala and Andhra. Indian pace bowler Sreesanth played in this match.

A Gymnastic Centre under the Sports Authority of India (SAI) has been established at Thalassery. Experts from India & abroad works in this Centre. It is situated next to Municipal Stadium.