Moorkoth Ramunni
Moorkoth Kumaran's second son Moorkoth Ramunni was the first keralite pilot who was selected to the Air Force during the Second World War.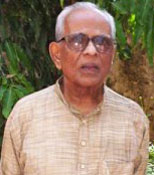 He was also a good cricketer and a hockey player. He was against the castism that existed in the Kerala society at that time. It was Sree Narayana Guru's message that inspired him to fight against the inequalities in the society.
He worked as a Wing Commander on Burma Front. He also served in the Cabinet Secretariat of Jawaharlal Nehru representing the Air Force in the independent India. He had served in Nepal, Bangladesh, Lakshadweep, Nagaland etc. After retirement as an IAS officer, he changed his residence permanently to Dharmadam in Thalassery. He had written several articles in English and Malayalam. He was also Chairman of several committees.
He died on July 9, 2009 at the age of 95.