C V Narayanan Nair
It was C.V. Narayanan Nair who re-established the glory of Kalaripayattu which was destroed by the British. The Kalaripayattu and Kalari fighters were a great threat to the British and their attempts to establish supremacy in India. Then collector of Malabar Robert Richards ordered that all villages be searched for Kalari fighters and all weapons be ceased. Kalari teachers were even sent into exile.

During the freedom struggle lathi cubs and wrestling centres were established as part of the efforts to revive indigenous martial art forms. THus Kalaripayattu made a rebirth at Thiruvangad Temple in Thalassery. The guru who led this revival was Kottaikal Kanara Gurukkal who belonged to the Chambadan veedu family of Thalassery. His great disciple was C.V. Raman Nair who was an accomplish fighter. There was also a Kalari display at the Congress meeting in Thalassery.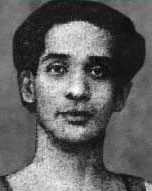 The Kerala Kalari Sangham led by him also presented shows in Karnataka, Tamilnadu, Mumbai and Delhi. He also established Kalaris in Mattanur, Kathirur, Cherpalassery and Tritala.
Sir C.P. Ramaswamy Iyer who was the Diwan of Travancore felicitated him when he presented Kalari before Maharaj of Travancore Shir Chithira Thirunal. THis Kerala Veerashri died early at the age of 38 on June 27, 1944.

Today kalari has spread to far shows and is popular in Europe and America. But very few people remember the role played by CVN in popularising Kalaripayattu.